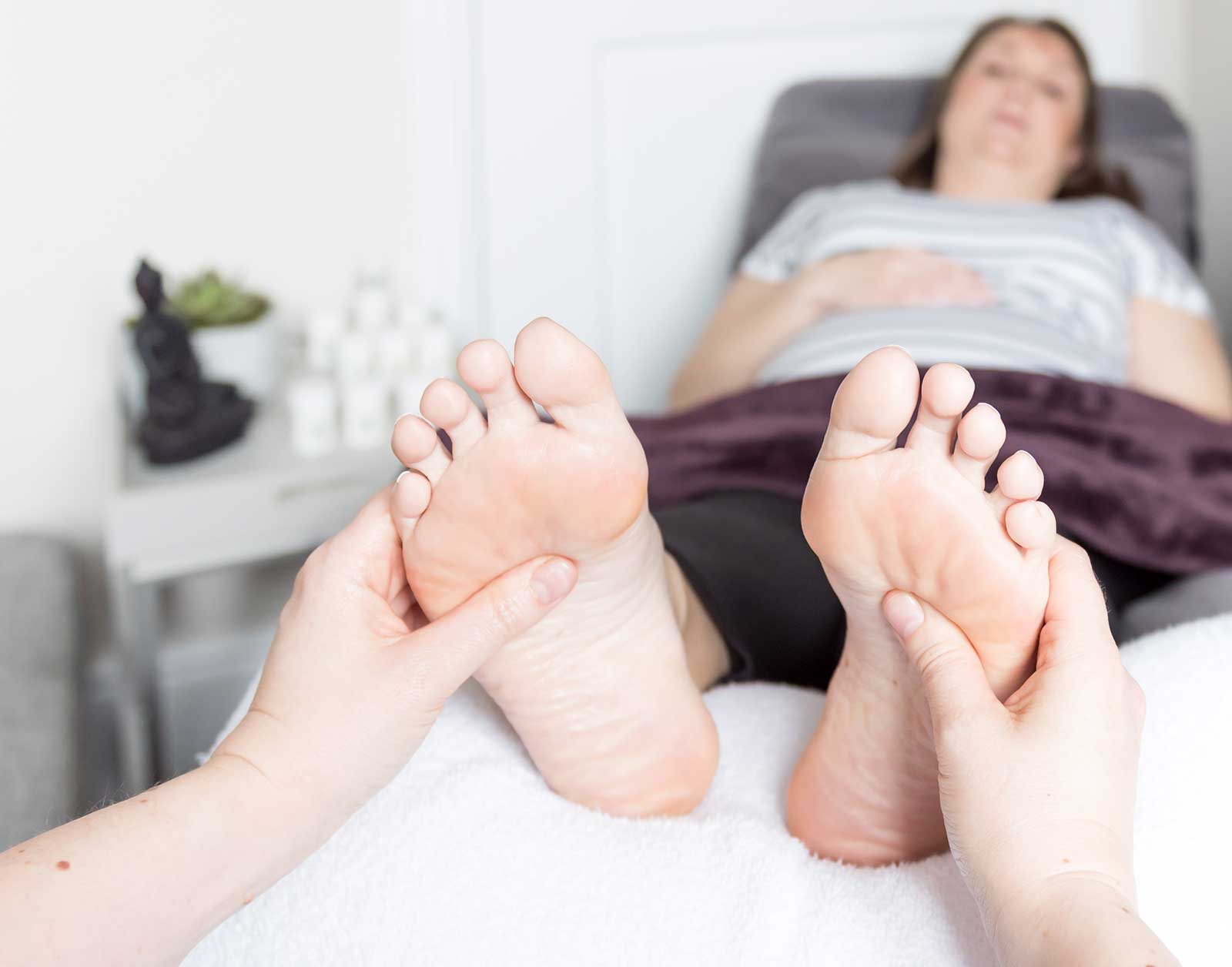 Maternity Reflexology myth busting
I'm often asked if it's safe to have reflexology during pregnancy so I thought it would be useful to address this question here. There are a lot of misconceptions out there about reflexology, but particularly, about maternity reflexology so here are a few points to consider before booking in your treatment.
Are you comfortable that your Reflexologist is suitably qualified?
My first point would always be to recommend that you seek out a reflexologist who is both experienced and appropriately qualified in maternity reflexology. Afterall, you want to be sure that you're in confident hands at this wonderful time. This can be quite tricky to determine, as there are so many short reflexology courses out there, and many different qualification levels, but let me provide a few points to bear in mind. Whilst Reflexology as a profession isn't regulated, the sign of a good practitioner who has completed a robust qualification is that they are a member of an established organisation such as the Association of Reflexologists (as I am). To join, members not only have to have completed an approved course with a minimum number of hours study, case studies etc. but they have to demonstrate ongoing professional development and abide by a Code of Conduct and Ethics. So that's definitely a good start in your search. My second recommendation would be to check with the practitioner if they undertook more detailed maternity studies as part of their reflexology qualification, or like me, may have undertaken some focussed post-qualification training. Don't be afraid to ask questions about the depth of these studies, their case studies etc. as hopefully this will give you confidence that the practitioner is fully aware of the contraindications and safe practices, particularly during pregnancy. Also, you may find it really beneficial to your wider wellbeing to be treated by someone who has experienced pregnancy and labour themselves and to be able to share your thoughts, feelings and emotions at this time in a safe environment with a therapist who has been through it. If you're happy with the answers to all of these points, then you're one step nearer to booking your first appointment!
Reflexology in the first trimester (and beyond) – are there any risks?
As you are no doubt aware, there are a number of risks throughout the course of an entire pregnancy. In the region of 15-20% of pregnancies are lost via miscarriages before 23 weeks gestation, with the first 12/13 weeks presenting the highest rates of miscarriage. Whilst there is absolutely no evidence to link reflexology with miscarriage, you, along with the practitioner, both need to be comfortable with receiving/providing a treatment, particularly during the 'riskier' time in your pregnancy.
Understandably for some clients and practitioners, they would prefer to wait until after that first scan. Personally, I'm happy to work with existing clients during the first 12 weeks at their request. My belief is that reflexology works with the body, mind and spirit to support the body's natural processes, giving them a helping hand to restore balance if anything is out of kilter. Given I work with clients on their journeys to conception using reflexology, it would feel odd to me to then refuse to treat them at a time when emotionally and physically they are looking for support during this time of great change! Ultimately, that decision is with my client, and I'm happy to work with them, or wait. That said, given those general pregnancy risks and the fact that I don't have the same established relationship and treatment history with new clients, I only accept new maternity clients after they've had their first scan. This seems to be a more comfortable arrangement for both parties in my experience.
One final point here is that a qualified, experienced practitioner will always take a detailed health and wellbeing consultation with you prior to your treatment, with a significant proportion of this consultation focussing on a number of key pregnancy related questions. This is to ensure that any 'red flags' or cautions are identified, where it may be appropriate to refuse treatment and refer you back to your healthcare team. Once any concerns have been ruled out, your practitioner should then proceed without fear to provide you with a wonderfully relaxing treatment for you (and baby!)
How can reflexology help me during pregnancy?
Research has shown that reflexology has a number of benefits during pregnancy. I'm trained in a number of protocols covering a wide range of common pregnancy symptoms including morning sickness, heartburn, indigestion, pelvic girdle pain, itching and swelling to name but a few! There are no guarantees of course, but many of my clients have reported improvements following treatments – it really is just a case of trying it, and seeing if you feel some of the benefits you'd hope a treatment or course of treatments may bring.
Can reflexology help induce my baby?
No, no, no! If you're being told by a practitioner that they can, then proceed with caution! An induction is a medical procedure and sometimes even medical interventions are unsuccessful. I always say to my clients that baby will come when they are ready and all we are doing with reflexology is giving the body and mind a helping hand to prepare themselves to be as relaxed as possible to support what the body is planning to do anyway. Through nurturing touch, supporting deep relaxation, we may well encourage some associated hormonal shifts as a result, which may then support the process. And post 37 weeks, I do have some additional points available to me to work which again, help encourage the body's natural processes, but this is not about inducing labour. It's about nurturing, relaxing and preparing for the hours, days or weeks ahead.
I hope this information has been useful in helping you to understand a little more about reflexology and its potential benefits during pregnancy, and, given you a little insight into my approach and assurance that you'll be in safe hands if you book in a treatment with me. If you have any queries at all, please don't hesitate to contact me.
Jane x