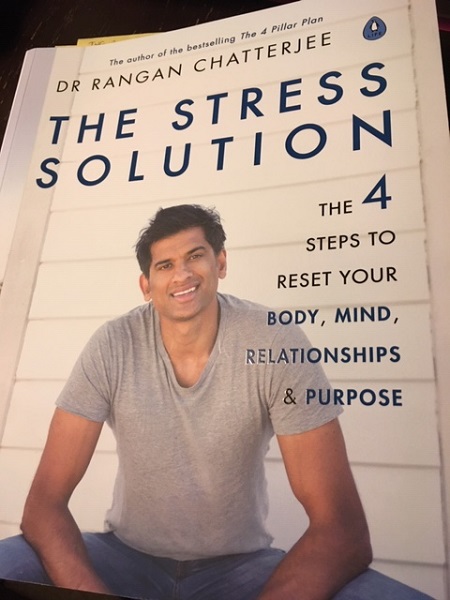 Book Review – 'The Stress Solution' by Dr Rangan Chatterjee
If you've not already heard of Dr Rangan Chatterjee, he's creating a bit of a buzz. He's the bestselling author of 'The 4 Pillar Plan' and can often be seen on prime time TV talking about health and wellbeing. He also has a podcast series called 'Feel Better, Live more'. Rangan is a practicing GP on a mission to offer simple advice on how small changes can help improve your health and wellbeing. At the start of this book he shares a startling statistic:
"Between 60% & 80% of GP consultations are thought to be related to stress".

The Stress Solution – Dr Chatterjee
Pretty sobering huh? This means that as well as those patients presenting with classic stress-related symptoms, there is a huge number of people who are living with conditions, symptoms and ailments which are exacerbated by stress.
Given that supporting ladies who are experiencing stress is one of my key areas of focus, I pre-ordered this book in December and was itching to read it. My interest was not only to hopefully support my own wellbeing, but gain some ideas to better support my clients. Here's the low-down…..
Format – It's pretty chunky, with over 270 pages, but is well laid out and really easy to read
Content overview – The book is split into 4 main sections:
Purpose – which includes tips on creating calm and scheduling your time
Relationships – which includes the importance of human touch, intimacy and friendships
Body – which includes the importance of nutrition, exercise and explains body rhythms and sleep
Mind – includes the impact of tech on our lives and the importance of exposing ourselves to nature and focussing on our breath
My Verdict: 10/10
This book is really easy to read and packed full of sensible, practical and most importantly, achievable tips and advice. You read it feeling like you can easily make some small changes without a sense of overwhelm. Rangan even gives a shout out to reflexology which was fantastic to read! I chomped my way through this book in the space of a few days – its not often something keeps my attention like this as I always have a few books on the go, so this is the mark of a great book for me. I've already incorporated some of the messages into my personal and working life. I've seen this book priced at £8 at a local supermarket which I think is a great investment in your wellbeing. But, if you're already a client of mine, please feel free to ask me about it at your next appointment – you're more than welcome to borrow it.
Jane x